Intrigued by research spotlighting eccentric training as one of the most effective ways to get firm, we asked fitness expert Chris Freytag to create a superfast shape-up exercise routine using this unique technique. When we put a group of readers on the plan, the results were eye-popping: Testers had an average weight loss of 6 pounds and 10 inches in 14 days, with the most successful volunteers losing up to 12 pounds and more than 22 inches all over.
The secret is in the program's slow-motion strength routine. Instead of lifting and lowering for 2 counts each, you'll double the lengthening "eccentric" phase of an exercise (i.e., straightening your arm during a biceps curl) to 4 counts. "Each muscle fiber works harder so you get firmer faster," explains Freytag. An East Carolina University study found that women who did eccentric training increased their strength nearly twice as much as those who lifted weights at a normal pace after just 1 week. You'll also build more muscle and rev up your metabolism to burn fat faster. Here's how to do it.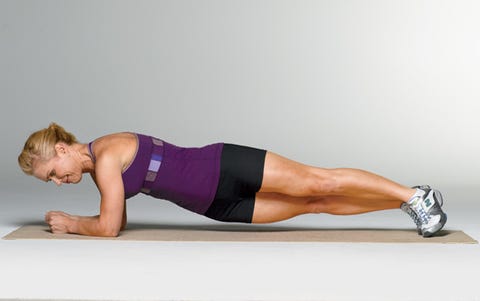 Firms: Front and side abs
Lie facedown, balancing on elbows, forearms, and toes; abs tight.
Slow It Down: Twist to right and lower right hip to floor in 4 counts. (Keep back straight.) Raise to start position in 2 counts. Repeat to left. Do 8 to 10 times each side.
Make It Harder (Week 2): Do 12 to 15 times each side.